X-ray thermal film for general radiology Agfa Drystar DT 1 B 35x43 cm.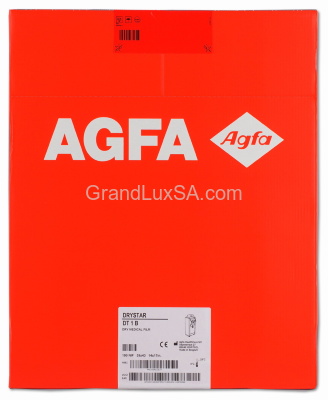 Increase the specific area of the image - move the cursor over it
Open the image in full size - click on it.
Thermal film Agfa Drystar DT1B 35x43 - is a film for dry printing with high optical density, as well as high contrast.
It is used to obtain diagnostic images of excellent quality on printers AGFA DRYSTAR 2000, DRYSTAR 3000, DRYSTAR 4500 (M).

Thanks to Agfa Drystar DT1B thermal films, it is possible to obtain dry hard copies of diagnostic images on a thermal printer.

DRYSTAR DT2B film is coated with layers of silver, made on a 175 micron PET substrate and has a protective layer that makes it resistant to scratches and moisture. The silver-bearing layer is insensitive to light, but reacts to high temperatures, providing a low veil, high optical density and contrast of the diagnostic image, at the same time with excellent image stability.
Features