X-ray laser film for general radiology Trimax TXB 35x43 cm (125 sheets )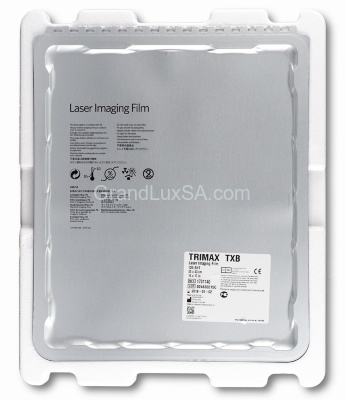 Increase the specific area of the image - move the cursor over it
Open the image in full size - click on it.
Carestream Carestream TRIMAX TXB 35x43 (125lst) Film for TRIMAX TX40 Laser Cameras is a high resolution infrared film that can only be processed in a dry process. One ream / cassette contains 125 sheets of film.

Carestream TRIMAX TXB 35x43 Laser Film (125lst) is available in sealed light-shielded cassettes that do not require pre-charging in a dark room. The cassettes have a special barcode that allows you to automatically recognize the type of film, its expiration date and automatically calibrate the camera.

Light-shielded film packages do not imply direct contact of the radiologist with the undeveloped film, but, if necessary, it is allowed to work with the film in a darkened room with a green non-standard light filter.
Features