X-ray laser film for general radiology FujiFilm DI-HL 35x43 cm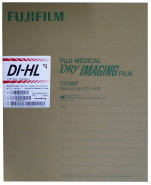 Increase the specific area of the image - move the cursor over it
Open the image in full size - click on it.
Fuji DI-HL 35x43 thermal film for dry printing is designed to produce extremely clean images with minimal density, comparable in quality to images obtained with conventional wet printing.

It is used to obtain high quality diagnostic images on Fujifilm DRYPIX PRIMA, DRYPIX Plus and DRYPIX 7000 printers.

One pack contains 100 sheets of film.
Features