X-ray film for mammography Agfa Mamoray HDR-C Plus 24x30 сm.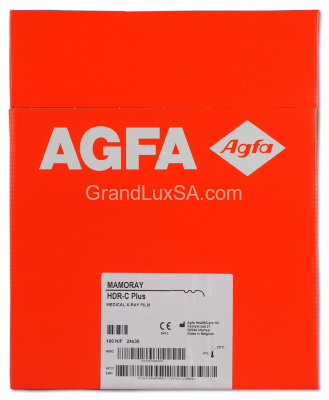 Increase the specific area of the image - move the cursor over it
Open the image in full size - click on it.
Agfa Mamoray HDR-C Plus 24x30 cm provides optimal contrast across the entire density range.
HDR-C film is an excellent diagnostic tool for dense breast tissue.
This unique film provides the highest possible contrast.

The unique technology provides an improved image of the details necessary for the perception of neoplasms and microdeposits in the dense breast tissue.
Cool blue tint in the image reduces eye fatigue and maximizes the ability to visualize fine details and fine structures
in the chest.

Due to the characteristics of the Cubic Plus crystals, HDR-C sensitometric results are minimally affected by fluctuations in processing conditions.
Low film grain reduces * noise * in the final image and the likelihood of artifacts.

HDR-C is a single-sided, high-contrast, green-sensitive, orthochromatic mammography film.
HDR-C can be combined with the Agfa Mammography display, which provides the highest image quality and system speed that best suits your needs.

Processing cycle - RP (standard).
Features