X-ray cassette Carestream Health (Kodak) X-OMAT with screen LANEX 35x35 cm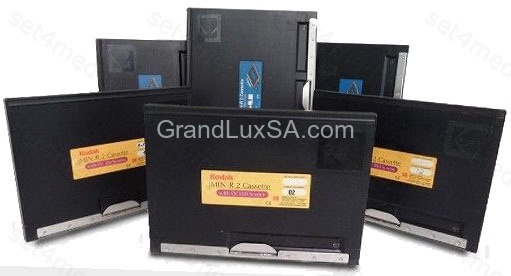 Increase the specific area of the image - move the cursor over it
Open the image in full size - click on it.
The Carestream X-OMAT X-ray cassette with LANEX 35x35 screens is intended for general and serial X-ray procedures.

Carestream X-OMAT cassettes are 27% lighter than their predecessor. This makes them more convenient to use and carry.

Carestream X-OMAT cassettes have curved front and back panels for improved air circulation between the film and screens when the cassette is closed. When fixing the cassette, the panels become parallel, which ensures tight contact between the film and the screens. The contact is also reinforced by a compression polymer foam applied to the back of each screen. The result is high quality images with excellent resolution.

The convenience of use can be attributed to the design with one lock, which allows you to open the cassette with one hand.

Each cassette is color coded to help you organize them.
Features
| | |
| --- | --- |
| Manufacturer | Carestream Health (Kodak) |