Video printer Sony UP-25MD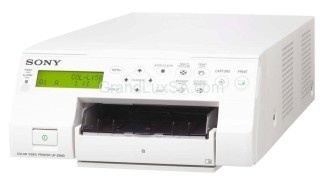 Increase the specific area of the image - move the cursor over it
Open the image in full size - click on it.
A6 analog color video printer with dye sublimation technology for medical use.

The UP-25MDSYN is a high quality printer designed for medical applications. It has a variety of analog video inputs for SD as well as HD signals, and is compatible with a wide variety of diagnostic medical imaging devices.

Photo-quality dye sublimation technology ensures long-lasting prints. It is compatible with conventional UPC-21S / L series substrates and UPC-24SA / LA self-laminated substrates. Self-lamination creates a coating on the image that protects it from external influences. Color correction can be performed using RGB or HSV color space to match the colors on the monitor screen and also optimize color accuracy.
Features