Radiological printer Sony UP-DR80MD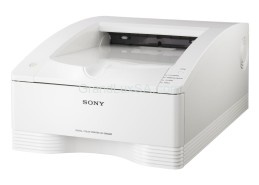 Increase the specific area of the image - move the cursor over it
Open the image in full size - click on it.
The UP-DR80MD is a digital color printer designed for medical applications.

Combining compactness, excellent image quality and low cost of ownership, the UP-DR80MD is the world's smallest A4 dye sublimation printer.

Easy color adjustment
The UP-DR80MD provides easy color management through property settings in the printer driver. It contains an image preview function that makes it easy to check and adjust images.

Color Adjustment Reference Table (LUT)
There are two types of LUTs for optimal color reproduction in a variety of applications such as endoscopy and ultrasound diagnostics. The default setting "Natural" creates colors based on the monitor's s-RGB color reproduction, suitable for endoscopic imaging. For ultrasound images, there is a "CG" color mode with richer colors. These settings are selected in the properties of the printer.

Adjusting the gray balance
The Gray Balance Adjustment function makes it easy to select the colors that best suit your needs and provides the most appropriate tonal range for your application.
Features