Radiological printer Sony UP-DF550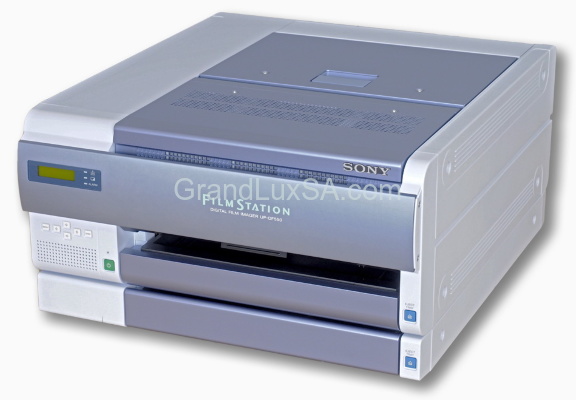 Increase the specific area of the image - move the cursor over it
Open the image in full size - click on it.
Sony UP-DF550 is a digital film printer with two feed trays for films of four sizes.

The UP-DF550 Film Station - nearly the same compact size as the UP-DF500 - supports four sizes of Sony Blue Thermal Film: 14 "x 17", 11 "x 14", 10 "x 12" and 8 "x 10". These sizes of prints are convenient for printing images from various diagnostic devices. The UP-DF550 is equipped with two film input trays, each of which can hold 125 sheets. The top tray is for 14 "x17" transparencies only, and the lower tray is for all other sizes. The printer also has an output tray that separates 14 "x 17" transparencies from other sizes. This allows users to quickly and easily find the prints they want.

Flexible installation and economical use of workspace
Thanks to an innovative print engine, the UP-DF550 has a compact design: 600 (W) x 316 (H) x 686 (D) mm and weighs only 63 kg. The print engine also allows the UP-DF550 to be mounted vertically or horizontally. Its footprint is one of the smallest in its class (only 686 x 316 mm), which is about the same as the UP-DF500 when installed vertically. Vertical installation is an ideal solution when working in a limited workspace or when the printer needs to be incorporated into hardware computed tomography or magnetic resonance imaging equipment, a mobile diagnostic system, used on a warship, etc. Plus, the UP-DF550 can be easily moved on the included roller carts.

DICOM Compatible
In accordance with international standards for medical imaging, the UP-DF550 is equipped with a DICOM interface, allowing it to be connected to a hospital imaging network.

Short warm-up time
It should only take two minutes from power on before the UP-DF550 is ready to print. This is important for emergency use cases.
Features