Industrial X-ray Film Carestream Industrex (Kodak) HS800 35x43 cm.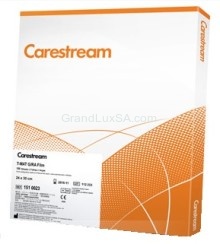 Increase the specific area of the image - move the cursor over it
Open the image in full size - click on it.
Kodak Carestream Industrex HS800 Industrial X-ray Film (NIF) is the most versatile. It can be used in conjunction with a lead, fluorescent or fluorometallic screen using direct X-ray radiation. Has a medium grain size. Suitable for low and high voltage equipment, and gamma sources. Suitable for concrete and heavy construction, offshore pipelines and thick walls.

Classification:
According to ASTM E1815 - III
According to EN ISO 11699-1 - C6

Development conditions using Industrex M43ic Processor equipment: 8 minutes at 79 ° F (26 ° C).
Sheet size: 35 x 43 cm;
Number of sheets per bundle: 100.
Features
| | |
| --- | --- |
| Manufacturer | Carestream Industrex (Kodak) |