Digitizer Agfa CR DX-G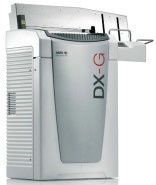 Increase the specific area of the image - move the cursor over it
Open the image in full size - click on it.
Agfa CR DX-G is a new generation X-ray image digitizer (digitizer) used in digital mammography and general radiography. Due to its compact size, it can be installed in offices with limited space.

The Agfa CR DX-G digitizer supports both standard phosphor plates and needle detectors. This feature makes it ideal for a wide range of applications.

Maximum productivity
The combination of the latest technology makes this unit versatile. Thanks to DirectriX technology, it is possible to significantly reduce the radiation dose to the patient. Using the "drag-and-go" buffer, into which 5 cassettes of various formats can be installed, the process of image processing is automated. That is, the DX-G can be used as a centralized apparatus for servicing several rooms.

Image scan modes
There are two image scanning modes: with a pixel size of 100 microns (10 pixels / mm) and 150 microns (6.7 pixels / mm).

Right choice
To avoid confusion, cassettes are painted in different colors: with needle detectors - in gray, with standard phosphor plates - in orange. This will help eliminate mistakes when choosing the correct cassette.

Patient ID
Each plate has a built-in chip that stores data entered during identification by means of an RFID tag. In this way, identities and images are linked throughout the entire digital imaging system.
Features