Digitizer Agfa CR 85-X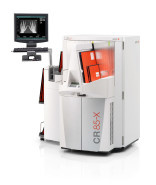 Increase the specific area of the image - move the cursor over it
Open the image in full size - click on it.
Digitizer Agfa CR 85-X is a high-performance digitizer for X-ray and mammography images. Suitable for solving clinical problems of any complexity.

The CR 85-X digitizer has a cassette buffer. This allows him to digitize at a speed of up to 115 cassettes / hour. This significantly reduces the waiting time, as well as ensures uninterrupted work in the department.

The CR 85-X digitizer is placed in the departments of surgery, X-ray room, intensive care unit, reception. Several users can work with it at the same time.

Specifications
Provides an input / output buffer for increased throughput.
Performs digitization of all types of X-ray images that were performed on any X-ray machine.
Conducts the full range of X-ray studies.
Performs processing of images of extremities and mammography images.
Provides excellent picture quality
Equipped with MUSICA software, with which you can carry out interactive image processing.
Fast processing speed of cassettes.
Features