Digitizer Agfa CR 15-X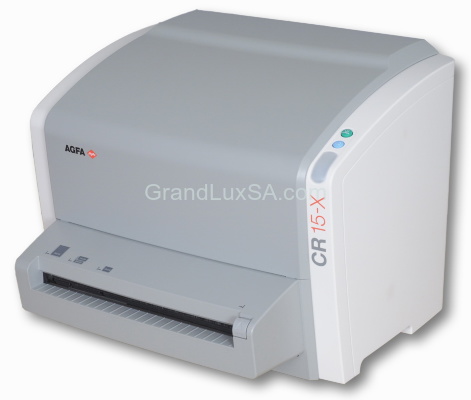 Increase the specific area of the image - move the cursor over it
Open the image in full size - click on it.
The CR 15-X is a versatile device. Unlike its predecessor CR 10-X and 12-X, the CR 15-X digitizer can handle multiple cassette sizes: 15x30, 18x24, 24x30, 35x43 to ensure optimal performance for any examination.

Ideal for decentralized general radiography environments, private practices, small clinics, orthopedic and surgical offices. Based on proven Agfa HealthCare technology, the CR 15-X benchtop machine meets the growing imaging and processing needs of X-rays.

High speed of work
The CR 15-X is capable of processing up to 102 plates per hour (depending on cassette size and resolution), while the device system allows you to select the preferred resolution for each exam, for reliable control and optimization of the workflow.

High image quality
The CR 15-X uses the special MUSICA image processing algorithm to ensure high image quality. MUSICA automatically analyzes the characteristics of each image and optimizes processing parameters - regardless of body part and X-ray dose deviations. As a result, we get a minimum of repeated shots, repeated or post-processing. In addition, MUSICA provides the same image display for computed radiography (CR) when used in conjunction with a direct radiography (DR) system, which provides additional diagnostic confidence. Since the MUSICA algorithm is fully automated, and there is no need to carry out all the calibration and processing, there is no need for a long training of personnel.

Mobility
The Agfa CR 15-X Desktop Digitizer is ideal for installations where space is limited. Thanks to its accessories, it can be easily installed in cars, vans, trucks and other vehicles.

Additional features
Networking capabilities provide full DICOM compliant CR 15-X integration, making it quick and easy to integrate with other pieces of equipment. The CR 15-X digitizer can be used in combination with an NX workstation, DRYSTAR 5302 digital thermal printer and / or SE software suite. The DRYSTAR 5302 Dry Film Printer offers a reliable and flexible solution for solid-media imaging. The SE software suite is a multimodal solution for diagnostic viewing, report writing and archiving of medical images.
Features