Digitizer Agfa CR 12-X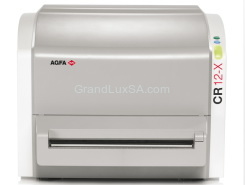 Increase the specific area of the image - move the cursor over it
Open the image in full size - click on it.
The Agfa CR 12-X digitizer is positioned by the company as a device with an ideal balance between speed and resolution.

The compact dimensions of the Agfa CR 12-X allow you to save space in the room. It is perfect for use in small clinics and private practice. Not whimsical to use and has a durable case, so it can be used in harsh conditions with variable temperature.

High speed of work
The CR 12-X is capable of processing up to 60 plates per hour (depending on cassette size and resolution), while the device system allows you to select the preferred resolution for each exam, which provides reliable control and optimization of the workflow.
The user also has the ability to customize the speed and resolution parameters or use the default values.

High image quality
The use of the special MUSICA image processing algorithm in the CR 12-X system ensures high image quality. MUSICA automatically analyzes the characteristics of each image and optimizes processing parameters - regardless of body part and X-ray dose deviations. In addition, MUSICA provides the same image display for computed radiography (CR) when used in conjunction with a direct radiography (DR) system, which provides additional diagnostic confidence. Since the MUSICA algorithm is fully automated, and there is no need to carry out all the calibration and processing, there is no need for a long training of personnel.
Features