Digitizer Agfa CR 10-X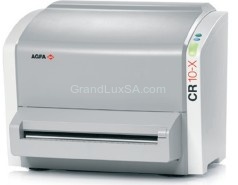 Increase the specific area of the image - move the cursor over it
Open the image in full size - click on it.
The AGFA CR-10X is a benchtop digitizer based on the proven AGFA HealthCare technology. It is used for general X-ray, orthopedic, dental examinations, and complete foot / spine images. Due to its small size and weight (29 kg.), It is ideal for installation in small spaces or for mobile use.

With the CR 10-X digitizer, digitizing from analog sources is easy. The device has been designed with cost optimization in mind, as well as ease of installation, convenience and optimum performance and maintenance.

Due to the high resolution of the digitizer (10 pixels / mm with a pixel pitch of 100 µm), it can be used for highly accurate diagnostics. The use of this multifunctional digitizer is advisable for general orthopedics, radiography, private practice, as well as for obtaining a complex image of the lower extremities and the entire spine (FLFS).
Features