Digital printer Sony UP-D25MD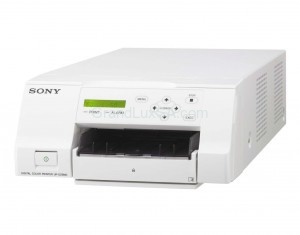 Increase the specific area of the image - move the cursor over it
Open the image in full size - click on it.
A6 digital color printer for medical applications. Dye sublimation ensures the highest quality.

The UP-D25MD replaces the UP-D23MD. Our goal was to create a user-friendly printer with improved image quality (up to 423 dpi, software color correction) and the ability to use a variety of media (standard and laminated). The UP-D25MD has a more compact design.

Benefits:
Sublimation of dyes

Dye-sublimation technology delivers photographic quality prints far superior to inkjet printers. An extra lamination layer protects prints from splashing water and other damage. The illustrations in the surgical reports are of exceptionally high, photographic quality.

Compatible with two types of media
First, there are standard media available for simple, high-quality prints.
Secondly, there are carriers with self-lamination, which creates a protective layer. It is resistant to light, heat, water, high humidity and fingerprints. The result is a higher quality image that remains unchanged for a long time.
Various possible positions of the anchor points
The position of the anchor points of the UP-D25MD (for fixation to the medical cart) is the same as that of the D23MD. Therefore, when equipped with imaging equipment, you can easily replace the UP-D23MD with the UP-D25MD

Color correction functions
The UP-D25MD has a variety of functions to select the optimal color for the resulting image. This color change can be saved and set again using the buttons on the front panel.

Adjusting color saturation (HSV)
In addition to the usual color contrast adjustment (RGB), the UP-D25MD also has an HSV (Hue Saturation Value) function. It allows you to correct only one selected color.
Features