Digital printer Mitsubishi P93DW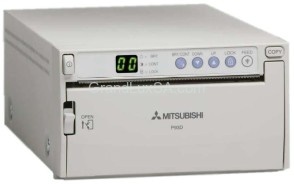 Increase the specific area of the image - move the cursor over it
Open the image in full size - click on it.
Mitsubishi P93DW digital printer

The P93DW video printer is a medical digital monochrome printer with a USB 2.0 interface for printing A6 (133x99 mm) images with a resolution of 312 325 dpi.

Features of the
Its compact size, high quality and print speed make it ideal for medical applications. It is economical - thanks to the paper saving function, it helps to reduce waste when printing repetitive images.
The date, time or comment (up to 40 characters maximum) can be automatically added to the print, which will be placed under the image.
Simple printer control is carried out with buttons on the front panel. Easy and quick paper change in a few seconds will save valuable staff time.

The P93DW video printer offers the ability to print in 7 different image formats.
Has the function of protecting individual settings.
Features