Digital printer Mitsubishi CP30DW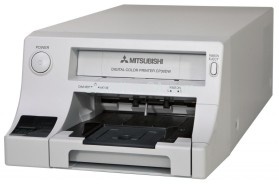 Increase the specific area of the image - move the cursor over it
Open the image in full size - click on it.
Mitsubishi CP30DW is a digital color printer that combines high resolution 423 dpi, fast print speed and compact design. Thanks to these features, it can be integrated into any diagnostic equipment system.

Features of the
The CP30DW printer is easy to install and operate. System commands are entered through the built-in LED control panel. The display shows the basic operations of the printer. One of the advantages of the printer is the ability to replace the cartridge and load paper into the tray from the front panel. A large paper tray allows for a large number of prints. Another distinctive feature of the Mitsubishi CP30DW is the tray illumination.
Features