Developing machine Agfa CP1000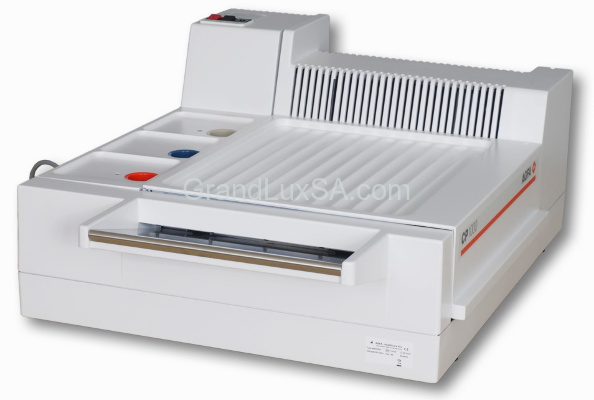 Increase the specific area of the image - move the cursor over it
Open the image in full size - click on it.
AGFA CP 1000 is a device for developing X-ray, fluorographic and mammographic images. It is unique in that it does not require a water connection. For work, special tanks are used, which are included in the delivery set. Thanks to its mobility, the AGFA CP 1000 is ideal for any diagnostic department, military field clinic and veterinary office. The device provides high-quality processing of films with sizes from 4 "x4" to 14 "x36".

Energy efficiency
The CP 1000 consumes 400 W in operation, but drops to 100 W in standby. To reduce power consumption, the device can be turned off. When you turn it on again, it will quickly restart and will be ready to work in 7 minutes.

The CP 1000 uses infrared drying instead of conventional hot air drying. This allows prints to dry quickly and also minimizes noise and power consumption during machine operation. It is also possible to regulate the drying temperature using a switch.

Safe working conditions
Containers with chemical reagents, as well as transport rollers, are closed with a special lid. This ensures the safe work of the nursing staff.

Easy cleaning
To clean the machine, just open the lid, remove the rollers, take out the guide plates and the chemical containers and rinse them. This process will take a few minutes.

Easy to set up
The CP 1000 does not require professional installation. Setup and installation takes less than one hour and only requires simple tools.
Features