Color printing kit Mitsubishi CK30L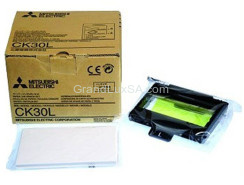 Increase the specific area of the image - move the cursor over it
Open the image in full size - click on it.
Mitsubishi CK30L is a set of paper for color printing. Recommended for Mitsubishi color printer models CP-30DW, CP-30W and CP-31W. The use of Mitsubishi paper and ink for printing ensures that image quality is maintained for a long time, as well as stable operation of the printer without additional maintenance.

Mitsubishi CK30L set includes: L size print paper (126x96mm) and ribbon cartridge. Packaging: 4 bags of 50 sheets - 200 sheets in total.
Features